Start a corporation or LLC online easily at
incorporate.com
so you can do business with us through wholesale / resale.
What's Trending in Search: The At-Home Coffee Bar


Dropshippers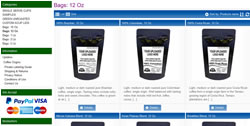 Join our program below. Orders are NOT automated, you enter an order in our dropship cart for each order you receive from your customer. Logo upload for free labels or send us your labels (or printed bags/containers) from your desired printing company, and manually add products you wish to offer to your own website or app.
The following options are available in multiple grinds from Coarse to super fine Turkish or as whole bean coffee. Several size options including 10, 12, 16, 32 and 80 ounce bags:
---

African (medium dark)
An African Kahawa blend featuring coffees that can include Burundi, DR Congo, Uganda, Ethiopia, Kenya, Rwanda, Zambia and Tanzania. This blend of coffee beans is roasted medium-dark for the best flavor.

---

Asian (medium)
Our Asian Plateau coffee beans are a a medium roast and can include coffee blended together from the Bolaven Plateau in Laos, Timor, India, Papua New Guinea, Sulawesi and Sumatra.

---

Swiss Decaf (dark or medium selections)
Swiss Decaf uses the unique process of Swiss Water, a chemical free way to decaffeinate coffee. Since decaf is often not very flavorful compared to regular coffee we prefer to blend different origins together for a unique flavor profile including Colombia, Brazil and Ethiopia.

---

Breakfast Blend (Light-Medium)
Gently roasted coffee beans brought just past the standard light roast to keep origin flavors intact while offering hints of good coffee flavor from the near medium roast blend. Coffees used can include variable blends of beans such as Colombia, Brazil and Peru for a true South American Breakfast Blend.

---

Cold Brew (Extra Dark)
Near French Roast coffee beans blended for great flavor when consumed as cold coffee, but also delicious hot as well. These coffee beans are blended from a secret recipe that includes South American and Central American coffee beans to create unmatched consistent flavor cold or hot.

---

Donut Shop (medium)
Traditionally fire roasted, our Gourmet Donut Shop coffee includes a blend of medium roasted coffee beans sourced from Central and South America.

---

French Roast (extra dark)
Perfectly roasted French Roast beans are very dark, slightly beyond dark roast and can sometimes include natural oils from the beans, offering a strong bold flavor. Coffee beans include origins such as Colombia, Brazil, Costa Rica, Nicaragua, Guatemala and Tanzania.

---

Half-Caff (1/2 Decaf)
A mix of Swiss Decaf (chemical free decaf) and caffeinated coffee. This 50/50 blend offers a low caffeine coffee and is available as medium or dark in the bucket, and also available as a light roast in our coffee bags. We do not offer light roast in the bucket since light roasted coffee is heavier and only fills the bucket about 60 percent full.

---

House Blend (medium)
A popular medium roast featuring a mix of beans that can include Honduras, Colombia, Brazil, El Salvador and Peru for full flavor. This unique blend is carefully crafted to make a consistent cup that is always delicious.

---

Latin (medium-dark)
Coffee beans are roasted medium-dark for a mix of standard coffee flavor with hints of bold. This Latin American Blend features variable coffee beans blended from Brazil, Mexico, Colombia, Guatemala, Bolivia, Dominican Republic, Honduras, El Salvador and Costa Rica.

---

Italian Roast (extra dark oily)
If you like your coffee to just taste like very dark coffee with no flavor profiles such as fruits, tobacco, sweets, floral hints, etc. this may be the preferred choice. This extreme dark roast features oily coffee beans with strong flavor, muting coffee origin flavors for a pure deep coffee taste.

---
Upload a Logo or Full Label - FULL COLOR PRINTING is FREE (one label per bag)
Private Label Option
Yes
My own custom labels (or printed bags) supplied by me?
Optional, must be sent to us by your print company OR upload logo for free labels on demand
Automated ordering? (tracking always provided)
No API, manually place each order, tracking provided
Automatically add products to my store?
No, manually add each product you wish to offer
Set my own pricing?
Yes
Account set-up fee?
$35.00
Monthly fee?
$10.00
Minimum order?
None
Advance purchase required?
No purchase ever required
How fast do orders ship?
1-2 business days in most cases. 3-7 for larger orders or during peak times.
Dropship Fee?
No
USA Shipping Cost
FREE
International Shipping Cost
Calculated USPS
What is my pricing for coffee?
10 OZ $11.18
12 OZ $12.76
1 LB $16.84
2 LB $25.90
5 LB $59.04
12 Pack Single Serve Cups $10.98
20 Pack Single Serve Cups $15.80
60 Pack Single Serve Cups $42.50
This is the dropship program offered directly by the Old Chicago Coffee Co.
(note: this is not an app)
No Dropship Fee & $10 Monthly Fee
No Minimum Order Requirements
No Advance Purchase Requirements
No Bulk Purchase Requirements
ONE TIME $35.00 Account Set-up Fee
LOTS of private label options including bag sizes from 10 Oz to 5 LBS and single serve capsules (see bottom of page).
Dropship Direct to your Customers
Tracking Numbers Supplied to You
Private Label / Co-Packer Option (Your own brand) for no extra cost - see info at bottom of page
Orders ship quickly by USPS or UPS.
Worldwide Shipping, sell to customers anywhere. We fill out customs paperwork and export with no filing fee. (EUROPE Dropshippers, VAT required)
Dropshipping: Using the program is simple. You offer our coffee under your own brand and your customers pay you directly for the products at retail pricing (that you set). You collect shipping information and collect payment from your own customer base, place the order with us, enter your customer's shipping address at checkout and we ship the order to your customer. This is a very easy way to sell products on your own site or places like eBay® or Amazon® where you get paid by PayPal, Stripe, WooCommerce or Amazon Payments, etc. and then pay us at wholesale pricing. This lets you profit from every order you receive without inventory, order fulfillment, warehousing, logistics, etc.
No inventory or bulk purchase required, but there are a few things we'll need before you can apply... Note: You may also be interested in our Coffee Affiliate Program instead
FEIN (Federal Employer Identification Number from the IRS)
To do business with our corporation through dropshipping you need to have a Federal tax ID (not a Social Security Number, an IRS assigned tax ID commonly called an EIN or FEIN). We also need the company name, street address and email address.
If you would like to request information on how you can get started with the dropshipping program please proceed below by clicking the Continue button to visit our resale registration page.


Note: If you are in Illinois we will also need your State Reseller or Retailer ID Number from the Dept. of Revenue for sales tax free purchases you place with us for resale. Without this information we have to charge you sales tax on any order.
Click or Tap the blue Continue button to get started (below):
Private Label Coffee / Co-Packer

Old Chicago Coffee offers Private Label Coffee where you use our select coffees to fulfill shipments to customers with your own brand name. We are an inspected facility and fully licensed. You simply upload a logo for free on demand labels OR supply your own coffee bags (and shipment packaging if desired, but optional) OR send us product labels to apply to our blank coffee bags which are black with a valve. Bags are air tight sealed and easily open. We process the order and that coffee is placed in your own coffee bag or one of our blank bags with your label on it. Return address on shipping labels is a generic distribution name, not our company name.

How do I start with Private Label?
When you private label with us we do not charge extra and your only additional expense outside of the $10 per month subscription to our services is generally labels (unless you use ours) which most order from places like VistaPrint, SheetLabels, etc., and enter our shipping address at checkout so they come straight to us. We let you know when they arrive and your ready to sell your brand. Our labeling guide shows you all the information about label sizes and a few things that must legally be on the label, the rest of your design is up to you. This information is available AFTER you are registered with us as a dropshipper. You can also upload a logo instead and use our free labels, but you can always send in labels later if you decide to.

What are the wholesale prices?
We have several coffees that we use for private label. You are able to select bag size and coffee origin, plus roast type, when placing a private label order. Some coffees we may have year round and others may change every 2 or 3 months subject to availability and harvest size from different farms, but there are always multiple options. Pricing is listed above. There are no surprises inside our mobile friendly dropship cart (which you get access to when registered). Our prices are extremely competitive and we do not charge a dropship fee per order.

What size coffee bags can I have shipped to my customers?
We have many options here: 10 Oz, 12 Oz, 1 LB, 2 LB, 5 LB

What about single serve coffee cups?
Our capsules are compatible with any brewer that uses K-Cup® style capsules, including the 2.0 versions. You can either have a private label product with no name brand printing on lid or you can supply us with printed lids to use on your orders for branded capsules. We do not make lids here, just great coffee, so if you want printed lids just supply them (51.2mm) and we'll put your lids in our machines so you have your own branded single serve cups. We use a select premium roast for single serve. Coffee type used in cups is a medium roast.

Does the Old Chicago Coffee Co. roast coffee or order it already roasted for my shipments?
We do roasting here and all processing is done here as well. We have grind options from coarse to fine plus Espresso and Turkish so your customers can get coffee ground the way they want it for auto-drip, coffee urns, percolators, refillable coffee pods, french press and more. Our equipment also fills and seals single serve cups so coffee goes from roaster to capsule, always super fresh.

READY TO GET STARTED? SELECT THE BLUE CONTINUE BUTTON FOR OUR PROGRAM (no app)...